ohpete
Casual Observer



Joined: 11 Jul 2007
Posts: 40

Posted: Thu Jul 12, 2007 11:16 am

Post subject: I feel an empty hole in my chest.

---

I've been so bored waiting for new vids, I decided to start re-watching the entire LG series from ep:1, and followed it all the way through. As I was watching...I noticed the trail off of Op vids...and it completely broke my heart. Why? Why must Op Aphid be gone? Those videos were like oxygen in my lungs.
Destrin41016
Casual Observer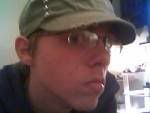 Joined: 21 Oct 2006
Posts: 99
Location: NC
Posted: Sat Jul 14, 2007 2:42 am

Post subject:

---

I know exactly what you mean. OpAphid was a big part of my life back then. and i feel like its been ripped out of me. *sigh* i miss it soooo much! lol.
_________________
Hmmm. Too tired to wrote something meaningful here so........damn...