MaboshiHotaru
Casual Observer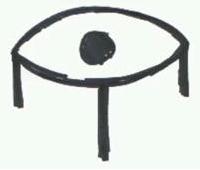 Joined: 17 Jun 2016
Posts: 35

Posted: Sat Oct 15, 2016 9:38 pm

Post subject: Boss.jpg Image

---

I think I might have found the image but I lack photoshop so I can't recreate the image exactly.

Original Photo: http://ww1.prweb.com/prfiles/2008/08/26/774674/SarahandJonas.jpeg
From this site: http://www.prweb.com/releases/2008/08/prweb1253634.htm


I have GIMP, I used Posterize filter on 7 to get this effect.


This is the image with boss.jpg overlay. It doesn't line up exactly because I had to scale and rotate the image but most of the major points line up with the Sarah Jonas Image.

For example - Jonas' right cheek where the shadow does a V shape.


with boss.jpg overlay


What do you guys think? Is it a close enough match?
Can someone who has photo shop try and get the right bitmap effect so we can match them up perfectly?

How I came across this photo was originally I was thinking the lady eye on boss.jpg was Maggie (after figuring out her serial number) so I went looking for pictures of her to line up. I also figured there is probably someone else in the picture because the eye is off to the side. I found a pic of her and Jonas but her eyes were too squinty in that pic for it to be her, but the image lined up with Jonas' faces proportions/sideburns/curly hair.
So today out of boredom I looked up a bunch of Jonas photos to see if it could be another girl. Found this pic of Jonas and Sarah, noticed she had big eyes... If this is the right picture - is it just more proof that Sarah is Boss? What does jonas have to do with it?

edit: here is the imgur album where I uploaded the images http://imgur.com/a/piGNd

Edit: Also I could be wrong. I mean Boss.jpg could be from a video and not an image, so there might be billions of possibilities of what it could be... but I guess I must assume its a solvable puzzle and we just haven't put all the peices together yet.