LG15: Outbreak behind the scenes
From LGPedia
For other series, see Behind The Scenes.
This is a Behind the Scenes page that contains real world information. It may be locked for editing due to privacy concerns.
The people who work behind the scenes of LG15: Outbreak often receive little credit, but more information about them is available here.
The Production Team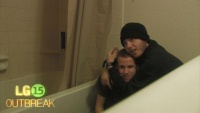 Cast
Primary:
Behind the Scenes Videos