List of New Girl Candidates/Sandbox
From LGPedia
This article is not a standard page

This article is currently in the development stage or is to be used as a sandbox. Feel free to edit the page or contribute via the talk page. Please do not remove this template or move the design to another page without first discussing it on the talk page or at LGPedia:Lucy's Balcony.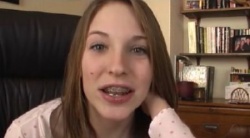 Under the duress of Jonas's gun, Alex made the comment that Bree was no longer needed for the ceremony, because the Order had "another girl!" (The Perfect Beach, April 13, 2007). Although she could have been bluffing, it seemed quite possible that the Order had given up on Bree completing the Ceremony. This meant, however, that The Order was looking for (or perhaps had already found) a new girl to take Bree's place.
When Nikki Bower made a video discussing possible replacement girls, it sparked a great deal of speculation on the forum about the identity of the "New Girl". Soon after, a "Video Challenge" was issued, and many fans produced their own "New Girl" videos. Later, when callmejules24 and soccerstar were revealed to be canon characters, the fan videos continued.
The Chosen Flock
The Chosen Flock is composed of a group of "Ceremony Girls" whose stories have become intertwined. The first episode of the series served as a calling card for People to make videos claiming to be the New Ceremony Girl taking Bree's place.
For More Information on this series, see The Flock.
Other New Girls
Chrysplanet
Chrysplanet a.k.a. Chrysandra is a member of the Hymn of One who was chosen to do The Ceremony. Her parents are very strict and homeschool her, and as a result she doesn't have any friends and spends her free time drowning in boredom. To kill time, Chrys decides to begin video blogging, though she is frustrated that she has nothing to talk about. However, by the time she makes her second video, she has been told that she has been chosen for the Ceremony.
Her first few videos, however, mainly revolve around other topics, including children's books and celebrating Earth Day with her father. According to Chrys, her father is nice but extremely reserved, and ends up agreeing with his wife Miranda's choices regarding their daughter (though he persuades her to let Chrys listen to whatever music she wanted, citing that it was her free will.) Needless to say, Chrys is shocked upon discovering that her father cut off service to her cell phone ((216) 619-0953) and erased all of her contacts off of it. When Chrys confronts him, he tells her that "this Ceremony is the most important thing in your life right now, and I won't have you be distracted by going out and calling boys." To her dismay, he also takes away her bike and forbids her from leaving the house, and encourages her to study and prepare.
Days later, however, Chrys and her family find out that she has been rejected as a Ceremony candidate, though Chrys doesn't know why. Her father continues setting restrictions, however, and takes away her camera and cuts off the internet access (though unbeknownst to him, Chrys still has access via her neighbor's Wi-Fi signal). Around the same time, her mother leaves without saying why, and her father refuses to talk about it, only saying that she's okay.
A month passes, and Chrys posts a video explaining that she found a way to sneak out of her house (involving a screwdriver and jumping from a two-story window). Chrys establishes contact with other Ceremony Girls including lostgrl17 and flowersonmyhat, the later of which gives Chrys advice on what she should do. She also reveals that her father has left as well, leaving her alone and in control of the house. In order to pay the bills and for necessities like food and soap, Chrys gets a job at a nearby grocery store.
Chrys later mentions that a man in sunglasses (simular in appearance to a Watcher) stopped at the house to ask for directions, which at freaked her out at the time, though she later concludes that she met the president's bodyguard. Not long after, Chrys recieves a letter from her mother, who informs her that she is staying with her sister Sophia in England, and that she is sending someone to check on her, and eventually relocate her.
Her accounts have since been deleted, though her first video, The Boring Video!, can still be viewed here.
Emilyoats
Emilyoats a.k.a. Emily is a member of the Hymn of One, possibly chosen to do The Ceremony. She is an only child, which she previously did not mind, but states that she is starting to become lonely. She has her faith, and equates herself to a sheep. She starts vlogging as a means to dispense advice to Bree, Daniel, and Jonas. She promises to post more videos, however, she only posts one and is not heard from again.

Flowersonmyhat
Flowersonmyhat a.k.a. Allison is a member of the Hymn of One, one of the few to not attend school at home. At the Argenteum Astrum Academy students take the normal core classes, as well as Philosophy, Greek, and Latin. Allison is really into computers, and is annoyed that her school doesn't offer a computer class. The school doesn't host a prom either, but it does have a banquet, which Allison gets invited to by a senior named Jake ("A Pretty Computer Geek"). However, Allison is unable to attend after her mother pulls her out of school upon learning that the school's teachings weren't simular enough to that of the HoO's. Feeling guilty, her mother ends up buying a textbook on computers and JAVA along with the other school books.
Allison decides to do research on her religion online in order to figure out why her mother pulled her out of school. (She mentions that her left her mom while she was pregnant and they don't know where he is). However, her attempts are cut short after she becomes ill (with laryngitis, among other things). However, upon visiting the doctor, she is told that it was only allergies and is given shots to prevent them from happening. She also decides to choose a new hat due to the velvet flower one being to hot for the Arizona summers, though in the ends she decides to suffer through it.
However, her summer vacation is made more difficult by a visit from her grandmother, who takes her bedroom (and by a fortune cookie saying that "The moment you were born, a problem was solved"). Her grandmother then sets to work, taking Allison to the doctor, the optometrist, the hairdresser, etc. Allison then finds out that her grandmother came to provide the religious instruction that her school failed to provide for her. Allison also begins to experience headaches, which her mother blames on a poor diet, but Allison believes are a side-effect from the allergy shots. Around this time, Allison establishes contact with Chrysplanet, another girl from the Hymn of One, whom she dispels advice to.
While looking through old photographs with her grandmother, Allison learns that her grandmother had a younger sister named Louise, who seemed to have vanished into thin air, though no one will talk to her about it. After some digging, Allison discovers that Louise was abducted in 1943 by Aleister Crowley. Not long after the discovery, Allison's mother and grandmother go missing, and she recieves a coded message from kidnappers telling her to go to the tree that used to serve as the town jail, or her family would die. She acknowledges the risk she is taking, but says So Long for now, hoping it isn't the last video she'll ever make.

Hymnofone
Hymnofone a.k.a. Cassandra is a member of the Hymn of One who was chosen to do The Ceremony. When she was chosen, Hymn of One members took her to a special facility to prepare. Her mother is pleased, convinced that they will take good care of her. However, before she can do the Ceremony, she has to kill a girl named Brianna who poses a threat to the Hymn of One and their teachings. Cassandra isn't happy with her new duty, but will do it in order to keep herself safe.
However, in her next video, Cassandra reveals that she no longer has to kill that girl, but she still has to participate in the Ceremony. She expresses her unease about the entire situation, saying that she has no idea what the Ceremony actually is. She also reveals that while she is in captivity, she is entertaining herself by watching lots of movies. She also reveals that a nice girl named Gemma used to spend time with her, but she hasn't seen her in a while.
Cassandra discovers that the Hymn of One are watching her videos, and they have broken into her computer to prevent her from posting more videos. She asks Bree for help, stating that she can't go on by herself. She says that the Hymn of One is not a choice, and people like Alex are foolish to believe that.
Cassandra somehow manages to escape the building where she is being held, however, something goes wrong, as she says that she was tricked and she doesn't want to "do these things". The ambiguity of the video has led many to believe that Cassandra has died.
All of her videos have since been removed, although her Revver profile remains.

LOSTchild17
LOSTchild17 a.k.a. Lizzy was one of the potential New Girls possibly chosen to do the Ceremony in Bree's place. Her parents are deeply involved with the Order and Hymn of One, and as a result her home is a firestorm of Order activity.

LucaSambuca87
LucaSambuca87 a.k.a. Luca was one of the potential New Girls possibly chosen to do the Ceremony in Bree's place.

Ponyprincess72
Ponyprincess72 a.k.a. Jamie was one of the potential New Girls possibly chosen to do the Ceremony in Bree's place.

Rejected92
Rejected92 a.k.a. Alana was one of the potential New Girls possibly chosen to do the Ceremony in Bree's place. She has a lot of pets, and an array of medical problems, resulting in a fear of needles.
Her YouTube profile is now closed and its videos are unavailable.

Schneidz124
Schneidz124 a.k.a. Kelsey was one of the potential New Girls possibly chosen to do the Ceremony in Bree's place. She was also one of the girls who responded to Chandra and Alondra's "It" Girl Challenge. She very desperately wants to be part of what she considers the "prestigious clique" that is the Flock. However, she didn't make the cut. Kelsey also has videos posted under the name of Kelseygirl15.