Million views
From LGPedia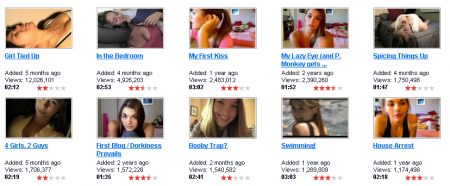 If I Had A Million Views...
Only a small number of lonelygirl15 videos have reached over a million views on YouTube. The first video to be viewed over a million times was My Lazy Eye (and P. Monkey gets Funky!). The next four were Swimming!, House Arrest, My First Kiss and First Blog / Dorkiness Prevails.
In April and May of 2007, I Probably Shouldn't Post This... and Boy Problems... crossed the one million threshold. later that summer, the videos The Unthinkable Happened and Lonelygirl15 Season 1 Recap hit the one million mark in June and August respectively. A few months later, I'm Really, Really, Really Excited! followed.
On January 21st, 2008, Girl Tied Up crossed the 1 million threshold, in an astonishing four days after its release. A month later, on February 20th, 2008, 4 Girls, 2 Guys became the twelfth video to enter the club. The following month on March 12th, 2008 In the Bedroom accumulated its first 1 million views in a little over four days, following in the footsteps of Girl Tied Up. The next video to reach the accomplishment, Spicing Things Up, came a mere three days later on March 15th, 2008. On May 16, 2008, Booby Trap? became the fifteenth video to join the million view club, only two days after its release, breaking the four-day record previously set by Girl Tied Up. On August 14, 2008, Beach Party became the first video to hit the million view mark since the show finale. Spanish Princess, Truth Or Dare and Watch This! have all since surpassed the million view mark, as well. As of May 28, 2009, At the Beach and Drawing in Bed had also surpassed one million views. On June 15, 2009, I've Never Done This Before exceeded one million views.
Other Accounts
Only videos on the lonelygirl15 YouTube account have approached these numbers. As of March 2009, the highest view count of a video on another account is Taylor's Sluttiness Prevails with over 500,000 views.
Multi-Million Views
Two Million
Three Million
4 Girls, 2 Guys attained in excess of 3.1 million views as of May 28, 2009. It reached two million views in November, 2008.
My Lazy Eye (and P. Monkey gets Funky!) exceeded 3 million views on June 15, 2009. On January 20th, 2008, it was the first lg15 video to exceed two million views.
Four Million
My First Kiss has over 4.1 million views as of May 28, 2009. It reached three million views on December 2, 2008.
Spicing Things Up reached 4 million views on June 15, 2009. It reached three million views on March 26th, 2009.
Most Watched Videos Ever
As of June 22, 2009, In the Bedroom was the most watched lonelygirl5 video of all time, with over 16 million views, having eclipsed long-time title holder Girl Tied Up in May 2009.
In the Bedroom reached two million views on March 24, 2008, and it was the second video to ever reach three million views on April 4, 2008. It reached 10 million views on February 13, 2009, 14 million views on June 1, 2009, 15 million views on approximately June 12, 2009, and 16 million views on June 22, 2009.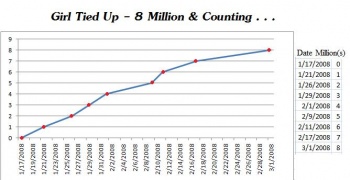 From January 26, 2008 through sometime in May 2009, Girl Tied Up ranked as the most viewed lonelygirl15 video of all time. It reached the one million mark on January 21st, 2008, the two million mark on January 26th, the three million mark on January 29th, the four million mark on February 1st, the five million mark on February 9th, the six million mark on February 11th, the seven million mark on February 17th, the eight million mark on March 1st, the nine million mark on April 1st, 2008, and the ten million mark as of May 8, 2008. As of March 5, 2009, it had exceeded thirteen million views, and 14 million on June 1, 2009. It was the fastest video by far to reach each million view count threshold, aside from Booby Trap's attainment of one million views in only two days.
In the Bedroom eventually overtook Girl Tied Up in views because, as of August 6, 2008, Girl Tied Up was the only known video in the lonelygirl15 series flagged as "possibly inappropriate" on Youtube. The video can now only be viewed by people whose age on YouTube is asserted to be at least 18, and the video does not appear on the lonelygirl15 channel under "most viewed videos", thus limiting the number of views it now gets.