Portal:LG15: The Resistance/News
From LGPedia
This is a content subpage for Portal:LG15: The Resistance.

It contains usage information, categories and other content that is not part of the original page.
December 13, 2008

Season Finale: Day of Atonement
The first season of LG15: The Resistance has come to and end. Catch up on the events here.

A recap of the day's events.
December 12th, 2008

Reed, pick a new title.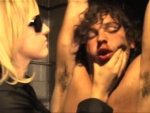 Sarah's big into this whole "evil" thing.

A blast from the past!
Recent blogs...