Prom: It's To Die For
From LGPedia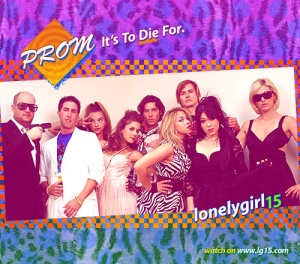 On Sunday, June 1st, 2008, the Lonelygirl15 production team announced that a multiple video special mid-season prom event would occur on June 6th, 2008 - preceded by a videoless week in which TAAG went offline.
The Event
The event started when Daniel posted the first video. A series of three more videos followed, and are listed below:
The TAAG's prom goes haywire.
Emma uploads her footage from TAAG's prom night.
Jennie gives a meeting location through a puzzle.
Publicity
The Announcement
Press Photos
To help generate publicity for the event, lg15 released a number of MySpace badges, as well as photo outtakes, on their blog.
MySpace Badges
Photo Outtakes