Bloodlines
From LGPedia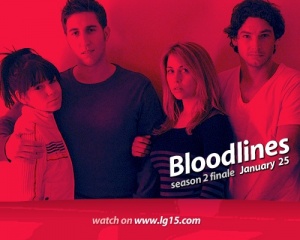 On Thursday, January 17th, 2008, the Lonelygirl15 production team announced that a live event would be taking place on Wednesday, January 23rd, 2008, followed by the Season Two Finale on Friday, January 25th, 2008.
The Event
The gang uses information from the live event to track down the Order.
Trying to save Emma from the Ceremony.
It's time for another Ceremony and someone will die.
Dr. Hart gives us the final twist of the season.
Promotion
Announcement
The announcement came on the heels of an official poll in which the Creators asked fans which city they'd be able to attend a live event in-San Diego, San Francisco, or Las Vegas. Fans voted on San Francisco, as announced on this blog post.
Several videos of the event are available, and Jonas and Daniel posted their own perspective on the events a few days later.