Topanga Canyon
From LGPedia
Topanga Canyon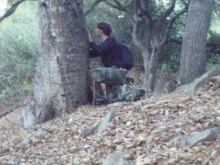 Appearances
Topanga Canyon was featured in The Ceremony video. It is the site of Bree's fake ritual.
Appearances
The best view of this location is found in Following The Helper when Daniel discovers a picture of himself attempting to spy on Bree's ritual. This location is also featured to some extent in a few fan videos, particularly those of Nikki Bower.
Location
Nikki Bower identified the location of this site as Topanga Canyon in LG15 in Topanga Canyon - NBR 1 and investigated the location further in What I Found at Topanga Canyon - NBR 2. Topanga Canyon contains lands of both Topanga State Park and the Santa Monica Mountains Conservancy.
Geographically, Topanga Canyon is located in the greater Los Angeles area, lying between the western San Fernando Valley to its north, and Malibu to its south, and acts as a main route from the Valley to the beaches near Malibu.
Shortly before spotting the fake ceremony, Daniel passes a sign that says "Trippet Ranch."