Zavalla
From LGPedia
Zavalla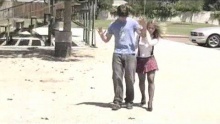 Appearances
Zavalla, Texas is a small-town in Texas. A map to the town was discovered on the computer in Lucy's apartment when Daniel broke into it in the video Following The Helper.
When Alex revealed that there was another girl who was taking Bree's place in The Ceremony, Nikki Bower discovered a girl named callmejules24 on YouTube who fit the bill. Another vlogger, soccerstar4ever a.k.a. Taylor, recognized the girl from her soccer team, and confirmed that she lived in the same town as her: Zavalla. Bree, Daniel, and Jonas venture down there to find Jules, but she is unwilling to listen, so Bree decides to kidnap her "for her own good". However, Jules contacts the Order, who sends Lucy to pick her up. Strangely, after talking with her, Bree gets into the car with Lucy and agrees to do the Ceremony. While Taylor stayed behind in Zavalla, her sister Sarah joined Daniel and Jonas on their quest to save Bree and fight the Order. For the next year, the only activity in Zavalla occurred when Taylor uploaded an occasional video.
Over a year later, it was revealed that Taylor and Sarah's dad was a member of the Hymn of One. He was the cemetary watchman, and was assigned to guard a Zavalla cemetery that was later determined to be the resting place of Elders and other important individuals in the Hymn of One. Among those buried there is Dr. William Porter, an Elder who was killed by Dr. Hart in January 2008.
See Also
External link