Nottinghamshire
From LGPedia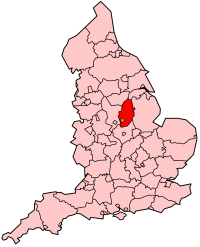 Nottinghamshire is a county in the middle of England. It is perhaps most famous for being the home of Robin Hood (specifically the city of Nottingham). Bree and Gemma both lived there along with other members of their religion.
In the video Mysteries of My Past... REVEALED! Bree says that she lived in Nottinghamshire for two years. The timeline she gives would mean she lived there from about 2002 to 2004. While living in England, she said the only friend she made was a dog. It was later revealed that the dog belonged to Gemma.
Gemma lived in Nottinghamshire with her family, but eventually moved to London to supposedly get away from her religion (in actually, to spy on Sebastian).
External links