The Creatoroos
From LGPedia
This is a Behind the Scenes page that contains real world information. It may be locked for editing due to privacy concerns.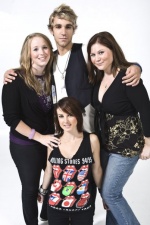 The Creatoroos refers to the creators of LG15: The Last. They are:
"Creatoroos" is a term coined by the LG15 comment boards, in reference to "The Creators" of lonelygirl15 and the project's location of Australia. Samantha Carr was the first to become involved with lonelygirl15, and when she saw the competition "LG15: The Show Is Yours," she immediately took action using her writing skills and developed a brief outline of characters and the plot.
She recruited three of her friends to help her create the pilot, in which three of them star. When the Pilot was picked up for a full series, The Creatoroos posted a video thanking viewers for their support.