User:Killthesmiley
From LGPedia
Now this is strange! I DID have a wiki page done!!!
About Kill The Smiley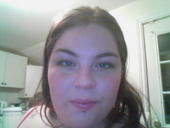 Name: Kelly Age: 20 Location: Halifax Nova Scotia
I am married (as of May 10th 2006), I have two children, and I love life...somewhat.
I've been recently described as a "Super-fan." Hey...that's cool. I'm a superior fan! Yahoo! Hahaha!!!
Currently, I'm a stay at home mom. I take care of my children 24/7, while my husband trains people on how to sell HP Products (if your small business needs printers, computers, servers and/or media equipment contact me!). I also write articles every so often critiquing movies, Cd's and television shows.
I attended New Brunswick Community College in Woodstock New Brunswick, specializing in journalism, but dropped out mid-semester due to a broken heart and stupid financial aid. Before that, in my 12th year of High School I ghost-wrote for a free-news magazine Here Saint John, critiquing concerts and interviewing local music acts. My interviews included Sum 41 and Shania Twain.
Currently I'm not writing exclusively for a specific magazine or editing for any one client. Although I am working on editing novels for my uncle in-law.
I am a lonelygirl fanatic. I am a Lost freak (thanks to LG422) and I'm a hip-hop fashionista.
So whats the story?
My life has pretty much unfolded like a soap opera drama. My biological parents met in early high school. When my father was 18, my mother was 16, the became pregnant with me. They then got married.
This was a very traumatic time in both of their lives. A lot of drama. Either way, my mother left my father, they divorced and that was that.
My father decided that he was incapable of taking care of me. He then relinquished his parental rights to my grandparents. I haven't seen my mother since I was three, yet then I didn't know she was my mother. I was six when I found out who my parents really were.
I grew up in a very christian home. My grandfather (the man I call "Dad") is a United Christian Minister. So this led to a lot of rebellion. Which ultimately led to me being placed into foster care at the age of 13. I moved from home to home, from group home to group home. I was lucky enough to avoid Juvenile Detention Centers.
While in care, I became pregnant with my first child, Mackenzie, at the age of Fourteen. I then left care to move in with my biological father.
I finished high school at Kennebecasis Valley High School in Quispamsis, New Brunswick. I graduated in 2004. I then went to community college to study journalism. I then left to follow my broken heart back to Mackenzie's father (huge mistake).
In november of 2005, I met a man that I've been talking to over the internet for 7 years. His name is Jim. We moved in together in December of 2005, we got engaged in Early february and we got pregnant in mid february. We got married on May 10th, at Melia Cayo Coco, Cuba. We had our first child together on October 19th 2006 (Jim's birthday as well).
Lonelygirl15 start
I started to watch Lonelygirl15 because of a anti-lonelygirl youtube video, Lazydork is better then you (I'm the thrillah with the three feet lines!). I was curious, so I looked her up. I've been watching since a week before the outing. I now officially live on the forums.
I began posting some videos in response to the actions of the character. Check them out on YouTube and Revver!
Chat start
I started on userplane. Within the first 24 hours of it being posted on the forum. I was a regular there. I practically lived there too. I was a moderator for a brief period of time.
My moderator-ship
so listen to this...after a little drama occurred, all the moderators lost their mod-ship. I'm AFK for a couple of days and i don't go into the chat. I come back....and I lost my moderator-ship. SO am I going to ask for it back...nope. I worked my butt of being a moderator in userplane. I told them I loved doing it. I loved to talk to people and intervene in situations.... but the problem is, is that I'm a resident of pervy town...so would i be a good moderator now.... probably not.
Anti-Flame War
I'm extremely anti-drama anti-flame war in the forums. Yet people for some reason think I like to start the drama. It's odd. Because usually what happens is I post a serious subject that needs to be discussed and attention-whores or drama queens come and flame on about it. I don't understand what they are trying to prove, but if they are trying to prove that they are immature...well damn they proved that months ago! You can see the discussion here.
Friendships
I love everyone!!! But dare I say...I dream about Lordgreystoke422!!!!!!

And goddammit I'll catch him
sorry I thought that was just too cute to give up!
I also admire my doctor very much!

My pink hair!
Credit: Nicole at Swanky Guru at Purdys Landing on the Pedway, Halifax Nova Scotia (Lurves yea Gurl!)
Forum Avatar
Credit: PushedButton
Favorite gift from forum buddies!
Credit: exjane
Links