Bree's father
From LGPedia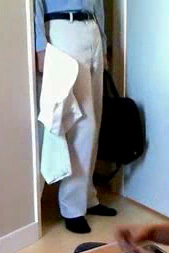 Bree's father has not been shown yet in the series, other than a brief shot of his lower body in "The Tolstoy Principle (and Dad "talks" to Daniel)".
He was carrying what appeared to be a while lab coat in one hand and a briefcase in the other. The lab coat led some to believe that he is a doctor or scientist. In "How My Parents Met", Bree confirms that her father studied medicine at Oxford. She also says that Bree's father met her mother at a performance in London of the Tom Stoppard play "Rosencrantz and Guildenstern Are Dead".
Both hands were clearly visible in his brief appearance, and he wasn't wearing a wedding ring. It is possible that Bree's somewhat unusual remarks about Pluto's new planet friends not having rings in "Poor Pluto" could be related.
Conflict with Daniel
In The Tolstoy Principle video, Bree's father pulls Daniel aside for a talk. Neither Bree's father nor Daniel are willing to tell Bree about the discussion. Bree later confronts Daniel about the conversation in What Did Daniel and Dad Talk About?. Daniel refuses to answer the question and eventually tells Bree that her father said she smells like cheese.
Daniel confesses in What Bree's Dad Said... that her father asked Daniel to film a play at Bree's religious camp. When Daniel refused, her father said that maybe Daniel should not be coming around anymore. Bree became mad at Daniel for posting this information on YouTube rather than telling her and they get in a big fight. Daniel later calms down and decides to attend Bree's play, even though he still refuses to film it.
Bree's parents allow Daniel and Bree to go swimming. But when Bree asks to go to a party with Daniel, her father refuses. After Bree sneaks out to the party anyway, her father catches her, places her under House Arrest and bans Daniel from the house.