Alexandra Dreyfus
From LGPedia
Alexandra "Lexi" Dreyfus is the actress who plays the role of Sarah. She is American born with an English father and American mother. She naturally has a British accent, which she changes to American for her character. She is also a classically trained opera singer who has been acting since the age of four.
As of the 2006 - 2007 school year, Alexandra went to the University of California, Santa Barbara. However, it is unclear if she attended any time before then, or has attended since. She played Nurse Monika in her school's production of "The Physicists."
Lexi heard about Miles Beckett from a friend of hers, who knew that he was auditioning actors for his show and thought she might be good for the part. Alexandra met with Miles and ended up audtitioning, which resulted in her being cast as Sarah. Before that time, Alexandra had not heard of lonelygirl15, and credits the fact that she "look[ed] right for the part" as the main reason she got the audition.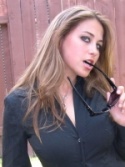 External Links