Bio-Therapy Report LLC
From LGPedia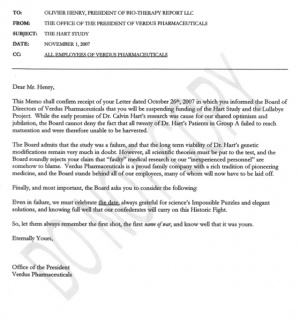 Bio-Therapy Report LLC is a leading sponsor for Verdus Pharmaceuticals and another front for the Order. Under the direction of Dr. William Porter (an Elder of the Order), it funded Verdus's operation, the Hart Study as well as the Lullaby Project. At least 500 Million dollars was placed into these two organizations. Porter's intention, as it was later revealed, was to ensure that he and -- to a later extent, the Order -- would have a fertile supply of Trait Positive girls.
With the Hart Study a failure, and the Lullaby Project secretly creating more miscarriages than desired, Dr. Porter demanded that Dr. Calvin Hart provide a trait positive girl: Gina, the control of the Hart Study. Through some extortion, Dr. Porter was willing to traded Gina for Emma instead.
Ultimately, Dr. Hart killed Dr. Porter, saving both girls, but leaving the future of Bio-Therapy LLC in uncertainty.