Hart Study
From LGPedia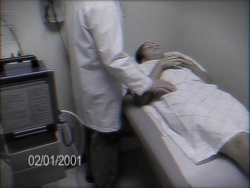 The Hart Study was named after Dr. Calvin Hart, who worked at Verdus as a life extension researcher.
Funded by Bio-Therapy Report LLC, Dr. Hart's study involved recreating the high-ribozyme-filled blood found in trait positive girls like Bree, Gina, Kate, and Emma. The twenty trait positive girls in question were genetically altered in the wombs of their mothers. If the study was successful and the girls reached proper maturation, Dr. Hart's superiors hoped that they could harvest their own Trait Positive girls, ensuring their supply would never run out.
Using Gina as a control, Dr. Hart worked with the twenty girls, trying to maintain not only the longevity of their life but their trait positive blood as well. Unfortunately, the tests proved to be fatal for each of the twenty girls, a serious blow to the Hart Study.
Nevertheless, Bio-Therapy Report invested half a billion dollars into both the study and to the Lullaby Project, which would provide Dr. Hart an abundant supply of genetically-modified embryos. Unfortunately, the Lullaby Project would be unsuccessful modifying the embryos, with several mothers experiencing miscarriages, so the Hart Study was ultimately discontinued.
The Hart Study became revealed to the TAAG when Jonas starting receiving anonymous videos showing Dr. Hart working with Gina, who was incorrectly called as "Patient #11" (in reality, she wasn't a patient at all, merely the control; what Dr. Hart was trying to recreate).
The videos, dated to have taken place in early 2001, were eventually revealed to come from Dr. Hart himself. Dr. Hart however, had claimed that Gina had died at the age of fifteen. In reality, Gina was taken captive by Verdus's sponsor, who planned to use her in an upcoming Ceremony unless Dr. Hart could provide another trait positive girl.