La Crete
From LGPedia
La Crete, Alberta, Canada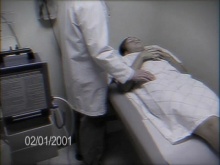 Appearances
La Crete, Alberta, Canada is one of the locations listed on Lucy's computer. After Gina's death, Jonas found several of her drawings hidden in the back of a closet. All except one depicted some sort of medical facility for children, and the one that didn't depicted Gina and Dr. Hart walking in Reinland Park, located in La Crete. TAAG concluded that La Crete was the location where Gina was used as a lab rat in the Hart Study.
It is later confirmed by Raymond Wharton's journal to be the location of a medical facility which functions as "customs center" for the Order. They collect, raise, and experiment on trait positive girls as they see fit. The locals generally avoid the facility, as "girls go in but don't come out." Lord Carruthers (undercover in the Resistance at the time) took a trip with another Resistance member named George Thomas Kiel. Their trip was cut short after they were spotted by a Helper, but they managed to spot children in Reinland Park (though they didn't make contact).
The facility itself is said to contain a "water chamber, bloody gurney, morgue, [and] nursery." George tried to enter, but Carruthers stopped him, claiming it was too secure. After they returned, George ran an operation to get bloodwork sent to La Crete. The operation failed after Carruthers lost the carrier en route. The following raid on La Crete went wrong and it was revealed that Carruthers was really a mole from the Order.
Jonas was sent footage of the Hart Study anonymously by Dr. Hart prior to this information coming to light.
External link