St. Grinstead Psychiatric Research Institution
From LGPedia
St. Grinstead Psychiatric Research Institution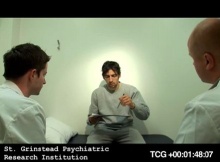 Appearances
St. Grinstead Psychiatric Research Institution is a psychiatric institution run by the Order. They use it to contain and experiment on people who pose a threat to the Order.
Kate was committed to St. Grinstead as a teenager because of her nightmares and delusions. Much later, Gavin was sent there after he began questioning the nature of the reality he lived in, believing Kate was still alive. While he was there, Gavin became aware that the facility was run by the Order, and learnt of Patient #12, the most dangerous occupant of the Institution, who was kept under maximum security, covered up and chained and wired in place.
After fighting his way out of the ward where he was kept, Gavin entered Patient #12's room. Gavin freed the patient, believing it to be Kate. However, the patient was actually Terrence, who had presumably been sent there after being beaten up by Michelle Clore's Shadow. Terrence broke free and escaped. Gavin also escaped, taking Kate's file with him.
The inmates of St. Grinstead wear plain grey pyjamas and are treated by Doctors, such as Doctors Reece and Kavorkian.
St. Grinstead also housed Joseph, an Order agent who posed as a patient in order to find out how much Gavin knew and return him to St. Grinstead.