Sarah Fan Club
From LGPedia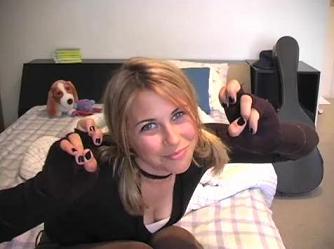 Hi, everyone! Welcome to the Sarah Fan Club!
This is a group for those who love and appreciate Sarah, SIE to join.
There's not really any rules, other than loving Sarah. All who declare their appreciation for her in the fan club's thread on the forum[1] (or just add their name to the member list below) and wish to join are considered members.
P.S. For those interested, this also doubles as the Daniel-Sarah Romance Promotion Force. You can join one without joining the other, though.
P.P.S. When Sarah rules this world, she'll look with favor upon those who joined.
Current members
Sarah Fan Club
Lurker (founder)
Chelseyrl
Jo_16_2
PolkadotConfederation
BrokenKid
chershaytoute
Icaterus
garnet
RoseCrowley
Aithne
nicole_x
longlostposter
Esteed
Inigo
aideen
Phoenician
ladysolitary85
R8tedR1
RedRevolver
nowherepixie
JustAnotherLonelyGirl.
lostgamer
Shaneener
EcholaliaRicochet
Skunkwaffle
JellyFish72
Charles Phoenix
Hippie29
anniid
BlogGirl14
Brooklynxman
qutestshorty
irenedirks
tripwires
kellylen
kageyuki
bree_is_awesome
jeans
Jbshryne
The_CW
Mystico
onesweetavenue
U.D.
crazylainey
JanaL
watermelonhead
xo_Chilili
megabyte
allformonkeys
SARAHPHOBIA88
TheAnie
house
voyboy
LiLskttles87
EchelonGirl23
watching_watchers
LesterG
Libra
ApotheosisAZ
MintyBeast
PushedButton
NovaStar
girlnextdoor
numbvox
jonas'brother
Greyfurgang
mousegirl
cup o' noodles
lessThan3_Mischa
FH14
thoughtssopoetic
razor33
Pat WoW
P.MONKEYgetsFUNKY
Unadrieniel
penguinstar
SirWallyWally
Poor_Little_Rich_Boy
Charlie_Star
BittersweetArithmetic
YouOnlyLiveTwice
Lala3434
fallinhedovrheals
fetalypositioned
K3nnyboy
Unsafe_Angel
Malaclypse
AzukiLotus
Total member count: 88
Daniel-Sarah Romance Promotion Force
Lurker
Chelseyrl
Aithne
longlostposter
aideen
ladysolitary85
Phoenician
EcholaliaRicochet
Skunkwaffle
Charles Phoenix
anniid
qutestshorty
irenedirks
Bree_is_awesome
The_CW
Mystico
Kellylen
crazylainey
JanaL
xo_Chilili
megabyte
allformonkeys
EchelonGirl23
watching_watchers
julz_rulz
LesterG
cup o' noodles
P.MONKEYgetsFUNKY
evlangelfire89
BittersweetArithmetic
fetalypositioned
Unsafe_Angel
Malaclypse
AzukiLotus
Total member count: 33
Daniel-Sarah Romance ANTI-Promotion Force
Total member count: 2
What we love most about Sarah
Feel free to place your reasons below:
Lurker — I love her sense of humor, her attitude and the obvious potential for depth of character that lies within her. I also think she'd be a perfect match for my other favorite, Daniel, the Beast himself. They seem different in a lot of ways, but both seem to be longing for love. May they find it in each other!
Chelseyrl — Sarah is a breath of fresh air. I also love her humor and ways of possible flirting. She seems to not take herself too seriously which cannot be said for the others. I hope her and Daniel get together because she could be just what Daniel needs. They are like night and day. Plus, she needs to stay away from Jonas.
ladysolitary85 — Sarah is unique, very intelligent, humorous, and very beautiful (there is nothing wrong with "emo" chicks). She's definitely someone I'd want hanging around in the series. I really hope she sticks around.
Aideen — I really don't think there are any words to describe the wonder that is Sarah. I have trouble breathing just thinking about how she speaks, how she does her hair, how her eyes are that perfect shade of blue-grey, how she is the complete opposite of Daniel (except when it comes to donuts) and is therefore perfect for him... Woops, sorry, got a bit distracted there while I was staring at the lifesize poster of Sarah on my wall -swoon-
EcholaliaRicochet — She's inpired me to teach myself how to tie a cherry stem into a knot using only my tongue... success has been inconsistent.
JayHenry - She is in competition with Gemma for best lips. You be the judge Gemma's lips vs. Sarah's lips. It's a tough decision.
Charles Phoenix - Sarah breaks up the previous character structure and stands out on her own, in her "out there" glory... with a chocolate frosted doughnut
Inigo: Sarah is like Lolita to me. While the other girls of LG15 are cute, Sarah is just f-ing hot, because she is not a prude like the rest of them and is eager to explore her sexuality while philosophing the ways of life.
Jbshryne: Sarah is the first really good decision that the writers have made in months. I was ecstatic to see her in CAMP PLAY. "I get it... I still need a shower."  :-D !!!
Esteed: I love Sarah for the beauty she holds inside. She guards it well, but if she were really a bad person, would she have ventured so far to help Daniel and Jonas? Her often acerbic wit and lack of a conservative attitude (which is extremely prevalent with the other characters) is refreshing, and makes her seem more like a genuine person. She doesn't just freely display her thoughts and emotions for all to see, often she keeps her cards held close to her chest, revealing only what she wants to reveal. Her attitude hints at boundless passion for the things she cares about, and I would hate to be on the opposing side if she were to ever commit herself to a cause or ideal. She is, of course, absolutely gorgeous and not hard at all on the eyes, but that is only a plus to an already wonderful girl.
Phoenician:I love Sarah for many of the above reasons (you can't deny ANY of them, BTW), but what I love most about her character is that she is perhaps in a position most LG15 fans WISH they had . . . a front row view into the life of Bree, Daniel, and Jonas. Sure, she may help out or critisize or nearly take off her sweater to get a smile, but in the end she's a bystander with a unique personality in a unique situaton.
EchelonGirl23: She's just brilliant. I adore her for all he above reasons and more that I cant put into words at the minute. :)
longlostposter — There is nothing fake about Sarah. What you see is what you get...and in a very lovely package, I might add. She is tough, yet vulnerable. But most of all, she loves Daniel, and brings new life to him. Let the Danielbeast be happy with totally hot Sarah!
bree_is_awesome-I love Sarah, For her great spy skills and I just love Sarah, for well..Sarah!
cup o' noodles Sarah doesn't hide her pervyness. And that's pretty kickass. *high fives Sarah* Stop by PervyTown any time, Sarah. ;)
AzukiLotus-I love Sarah as ahe is an ACTIVE, BRAVE HEROINE! She always does anything for TAAG, espacially when Jonas hid/drank after he had involved Emma into danger EREVYTIME, Sarah took action first at the risk .
Our favorite scenes with Sarah
Feel free to identify yours below:
Lurker — So far, all of them. Her introduction in "Crazy Emo Chick" was wonderful (when she pretended to have a gun to Daniel's back), and she was awesome once again in "No Trespassing." She had several great moments there, including telling Daniel that she can tie a cherry stem in a knot using only her tongue, and telling both he and Jonas to "grow a pair" when they suggested that she and the other girls serve as a distraction for a guard dog. Even just listening to her description of the house as she investigated ("Lots of grass ... Very interesting ... Trees ... Paint falling off") was heavenly.
ladysolitary85 — In the video "I Know What Boys Like", Taylor asks Sarah "What do boys like?" and Sarah only responded with sparks in her eyes, looking over to Taylor then back to the camera as she unzips her sweatshirt.
JayHenry — I think that if I knew Sarah I could come to appreciate her various talents, such as when she puts her leg behind her head or when she ties a cherry stem in a knot with her tongue.
JustAnotherLonelyGirl. -- In "I Know What Boys Like" when she clasps Taylor's mouth and says "Every time you score a goal, a starving child in Africa dies." Also, every bit of "Let's Play Doctor" that included her was magnificent. XD
Jbshryne -- "It involves D batteries, and makes a lot of noise." "...A boom-box?" BRILLIANT.
Esteed: I think we're all rather fond of the show we almost got, but other than that, I think my favorite scene with Sarah (so far) would have to be any scene where she challenges the others to step things up. She may merely say, "grow a pair" but in doing so, she's challenging the others to put up or shut up. I'm hoping we'll see scenes where Sarah not only challenges them to step it up a notch, but to change the way they're thinking. I'd love to see Sarah as a force for change within the group. And of course, the D batteries scene is good.
Chelseyrl: "But I'm your freak". Yeah, that was ultimate cuteness.
Phoenician: I've been loving most of Sarah's scenes, but the best of the best HAD TO BE Sarah's face when she says she's just BORED OUT HER MIND!
More recently, I LOVE her summary of the TAAG's latest angst in the video, 4 Girls, 2 Guys . . . simply brilliant :)
Charles Phoenix:Everything that is Sarah but especially all of the Sarah (and Daniel) ness throughout Getting Her Back... also (mouth still full)"do you want gold fish?"... as well as "it works with Colossus"
anniid: Camp Play when she has the camera and is wandering around saying strange things sarcastically and looking for clues under a blade of grass. I also like it when she asks whether or not the donut Daniel swiped was jelly-filled.
Charles Phoenix - its not canon but the vlog screenplay written my Inigo which all Darah shippers should read... which i have posted on mine profile
When she says "I love donuts." and "Grow a pair."
lessThan3_Mischa: In the video "I Know What Boys Like" when Sarah gets put in time out for unzipping her sweatshirt. Then she throws up the rock on sign. Sarah is a such a badass.
jonas' brother: In "Let's Play Doctor", "It involves D batteries and makes a lot of noise." And all of "Mission Gamma."
Goals
To promote more appearances by Sarah in LG15 videos through the expression of our love.
To promote more posts by Sarah on the official LG15 forum, again through the expression of our love.
Convince The Creators to pair her with Daniel romantically and let them live happily ever after (possibly not the goal of all members, but definitely a goal the founder had in mind).
Collectively ignore Mallory! ;)
Changes
After the departure of our founder, Lurker, from the Phorums, we the members, have wondered if anyone would be in "moderation" of the club(s)... at the decision, and more likely, joking by Phorum moderator Libra... the moderation of this club has apparently been passed on to me... so now I will be regularly be updating this page and welcoming new members in our thread on the Phorum... since im pretty sure thats all Lurker did... besides spread the Sarah love... which I'll do on a regular basis anyway.
Oh and btw Lurker... we still miss you... at least I do!

Cheers...
-Charles Phoenix
Related Links