Shadow
From LGPedia
Shadows are members of the Order of Denderah. They act as bodyguards of the Elders. According to Alex, Shadows are physically augmented by a variety of pharmaceuticals; modafinil, anabolic steroids, and amphetamines. They don't need to sleep and they're both stronger and faster than the average person. Because of this, Shadows cannot live past the age of 30.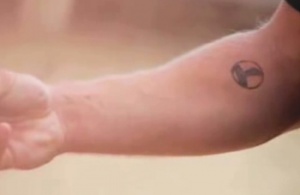 Shadows can be distinguished from other people by the omicron tattoo on their forearm. In the center of the omicron lies an upside down tau.
Even though they primarily serve as bodyguards to the Elders, this branch of the Order was also responsible for the capture of Bree, Daniel, and Jonas during their travels in Las Vegas in late March 2007. As revealed much later in My Fatal Mistake, the Shadow that captured BDJ was not actually a part of the Order, but worked for a rogue Elder who does not follow the precepts of the Order. This explains why it was a Watcher who rescued BDJ and eliminated the rogue Shadow.
In hour 8 of the 12 in 12 lonelygirl15 Season One Finale, a Shadow stabs Jonas in the stomach, before being stabbed by Daniel. However, the Shadow seems to have been okay, as he was later seen carrying Bree's lifeless body away from the operating table after she completed the Ceremony.
Shadows have also been seen working for Lucy, even though she is not an Elder. Lucy, with the help of Sarah, sent Shadows to capture Jonas in the 12 in 12 Day of Atonement.
See also