Spanish Princess
From LGPedia
Episode 436

/3x026

Spanish Princess
Blogger
Sarah
Date Posted
March 12th, 2008
URL
youtube.com

Forum
16557|3=lg15}}
Length
3:05
Description
I'm lost in translation. Can anyone help me?

Location(s)
The rented house

YouTube Tags
lonelygirl15 lg15 hymn of one Sarah Spanish Princess

Production Credits
Executive Producer(s)
Miles Beckett, Greg Goodfried, and Amanda Goodfried

Series Producer(s)
Amanda Goodfried

Production Assistant(s)
Jenni Powell

Director(s)
Marcello Daciano

Camera
Kevin Schlanser

Vidplay
Tom Pettit

Story
Tom Pettit and Blair Singer

Editor(s)
Matt Vanselow

Music Supervisor
Seth Jacobs

Music
"Don't Get Attached to the World" by Jared Scharff & The Royals

Cast
Sarah
Alexandra Dreyfus
Adjacent Blogs
Previous
"Tangled Web"
Next
"Coffee and Donuts"

Previous by Sarah
"Prey"

Next by Sarah
"Hostage Crisis"
Spanish Princess is the four-hundred thirty-sixth video in the lonelygirl15 video series. It is also the twenty-sixth video of season three.
Transcript
(Sarah lays on her bed, checking a Spanish-English dictionary.)
Sarah: At first, I thought it would be uh, "romantic," you know, to go all "old-school," get out the Spanish-English dictionary and go word-for-word. (She slams down the book.) The internet has got to be easier.
(Cuts to Sarah sitting in front of her laptop.)
Sarah: (reading) "I think of you for night, and I gave." What kind of translating program is that? I'm going to try another one, because this one doesn't work... none of them work. Okay... listen to this, (reading) "These you give together in Mexico. They are like an I sound fantastico with you. Yourself are youth, but I expect that you have tambien. Sit down the same way," What the hell does that mean? This program is better. (reading) "I love you so much. I think about you in night and day. These together days in Mexico are like a fantastic sleep with you." And.. and then this bit.. (reading) "Inside every one of us there is a Spirit Sacred. And this will be his appellido. Spirit Sacred. Un Besote." (smiles) I like that.
(Sarah dances around the room.)
Sarah: Everyone's all gung-ho about finding Carl. You know, so we can find Bree's mom. But I'm not even sure I want to find Carl. I mean, look at this. Carl wrote me a message... (opens her copy of Finding the One) ...in Spanish. Guys try to make these incredibly romantic gestures and end up looking so lame. Besote and all that other stuff I was trying to translate, that was from Carl's poem inscription. You know, I'm worried that if we find Carl, he's going to be mad at me. Because... we slept together. And it meant something. Carl, you know, is a great guy. Maybe he's hurting right now. And I have no idea how other people are going to react to this. If you guys could give me an accurate translation of Carl's inscription, God, that'd be great. I'm going to post all the contents of the note in the forum at LG15.com.
Carl's Note
The original letter: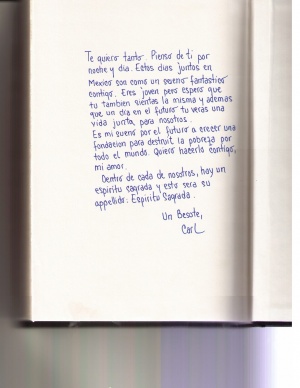 Te quiero tanto. Pienso de ti por noche y dia. Estos dias juntos en Mexico son como un sueno fantastico contigo. Eres joven pero espero que tu tambien sientas la misma y ademas que un dia en el futuro tu veras una vida junta para nosotros.
Es mi sueno por el futuro a crecer una fondacion para destruir la pobreza por todo el mundo. Quiero hacerlo contigo, mi amor.
Dentro de cada de nosotros, hay un espiritu sagrada y esto sera su appellido: Espiritu Sagrada.
Un Besote, Carl
Several translations have been offered in the forums. A generally agreed upon translation is similar to the following:
Notes