Taylor's bedroom
From LGPedia
Taylor's bedroom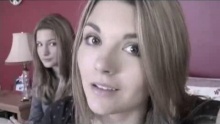 Appearances
Taylor's bedroom
Taylor's house
Taylor's dad's house
Taylor's bedroom has white walls, with one red accent wall. Taylor has a soccer ball clock on her wall, as well as a soccer ball clock on her bedstand. Her comforter has a floral print. Bree appeared in Taylor's bedroom in We Found Julia!!!, and Jonas appeared in My Mom's A Freak!.
The Rest of Taylor's House
Taylor primarily lives with her mom (and Sarah), and at times, we see other parts of the house they share.
Taylor's Dad's House
At times, Taylor and Sarah live with their father. His house his shown here.