The Creators
From LGPedia
This is a Behind the Scenes page that contains real world information. It may be locked for editing due to privacy concerns.
This article is about the creators of lonelygirl15. For the creators of LG15: The Last, see The Creatoroos.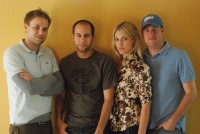 The Creators refers to the creators of the lonelygirl15 project. They are:
They occasionally post comments on the forums as "The Creators." The Creators first spoke on Sept. 7 with A Message From The Creators, several hours before Richard Rushfield of the Los Angeles Times linked lonelygirl15 to the Creative Artists Agency.
The use of the term "the Creators" seems interesting since it would almost seem to be a biblical reference. It is not clear what message, if any, "the Creators" intended to send by the use of this phrase rather than conventional film production titles but it does seem to play into other religious references in the lonelygirl15 plot. Because of its biblical reference the use of phrase the Creators suggest that the team that produced lonelygirl15 consider themselves as "Gods" or at least as people with a great deal of power. If they had been classical film producers they would have chosen the term "executive producers". However its quite possible that the term simply evolved out of the fact that they created the lonelygirl15 vlog.