Denderah
From LGPedia
The origins of the Order can be traced back to Denderah (also spelled Dendera) a city in Ancient Egypt.
History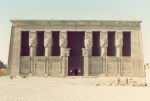 Years ago, Aleister Crowley visited the Temple of Hathor, where he uncovered hieroglyphs that told of a woman living in ancient Denderah who was believed to be a descendant of the fertility goddess Hathor. This woman was widely considered the "fountain of youth." Hathor's daughter gave birth to twenty girls and the bloodline was treated as holy. Apparently these girls and all of their descendants today have those same life-giving qualities in their blood. Upon learning this, Crowley began to track down the girls and exploit them for his own purposes. From there, he founded the Order, wherein he shared his secrets with a group of Elders, who took on the name "The Order of Denderah," and began performing Ceremonies to extend their lives.
Other References
In honor of their founder's passion for Ancient Egypt, many members of the Order and Hymn of One study and reference Denderah.
In the video Zodiac of Denderah Bree tells a story about Napoleon's troops finding the temple at Denderah, and about the astrological system they had developed. Zodiac ceilings have been found at the Temple of Hathor. The Centaurus/Lion can be seen within Dendera Zodiac.
In the series finale, The Ascension, Jonas is held captive on the S.S. Hathor's Song. The boat is an Order-operated boat, clearly referencing the Temple of Hathor.
External links

Wikipedia also has an article about Denderah.