I've Never Done This Before
From LGPedia
I've Never Done This Before is the four-hundred twentieth video in the lonelygirl15 video series. It is also the tenth video of season three. This video is correctly called "I've Never Done This Before", with a punctuation apostrophe (right single quotation mark) instead of a typewriter apostrophe - it resides here for easier accessibility.
Transcript
(Gina is lying on her stomach on a bed with a notepad in front of her.)
Gina: Hey. Can you see me? I've never done this before, but it's kinda cool. Weird, but it's cool.
(Gina looks up and turns the camera around to show Daniel.)
Daniel: Hey. Am I bothering you? Can I-?
Gina: Yeah- No, of course.
Daniel: Here, let me help you out. (takes the camera from Gina and turns it around to show her) You can't just put it on the bed... (sets the camera down on a chair) ...or you won't see anything.
(Gina laughs as Daniel plays with the zoom. He then dives onto the bed.)
Daniel: Aaaand... (lands on a piece of paper) Sorry.
Gina: Hi. (giggles)
Daniel: Hi. (nudges Gina) Smile! (Gina smiles awkwardly at the camera) Okay, now you can go. Just talk.
Gina: About?
Daniel: Um... Well, let's start with these! (looks at Gina's drawings) You turn out, like, ten of them a day. (nudges Gina) With your eyes closed. Why do you do that?
Gina: I don't know. When I start drawing, I just- I try to clear my mind. I try not to see anything.
Daniel: And how do you know what to draw?
Gina: (shrugs) I don't. I mean, not really. It's kind of the whole point. It's a way for me to... access the unconscious?
Daniel: So it's like meditation? (pokes Gina with his elbow) You're like a zen master?
Gina: Yeah. (grins)
Daniel: (laughs and pushes Gina over) Whatever! Geez.
Gina: It's, uh... It's actually something that I taught myself during the study - the Hart Study. During the worst parts, I'd... I'd be so tired and I couldn't remember anything. And I felt like I couldn't feel anything. Do you know what I mean? (Daniel silently nods his head) Well, drawing always brought me back again. It was... It was just a safe place for me.
Daniel: (picking up a few of her drawings) So these are like your memories?
Gina: No. (grabs for her drawings)
Daniel: Your dreams?
Gina: No, they're nothing.
Daniel: Why can't I look?
(Gina grabs her drawings out of Daniel's hand and rips them up.)
Daniel: No, you don't have to-!
Gina: It's private!
Daniel: Okay, I'm sorry! (gets off the bed) Just stop! Sorry.
Gina: No.
Daniel: I'll j-I'll...
Gina: No! Daniel, you don't have to go.
Daniel: It's okay, I'm- It's fine. I'm sorry.
Gina: Daniel...
Daniel: I'm sorry.
(Daniel leaves and Gina looks disappointed. She quickly turns off the camera.)
Notes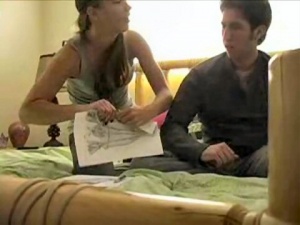 Daniel flirts with Gina by climbing on the bed next to her and asking her questions. This is resemblant of his earlier days with Bree.
One of Gina's drawing is of three flowers in a vase, as seen on the right.
Gina is wearing what appears to be black nail polish.
When Daniel grabs the camera, as he's turning it around, you can see a member of the crew in the mirror over his shoulder.
As of March 18th, 2008, this video has exceeded over 490,000 views.