Niagara Falls
From LGPedia
Niagara Falls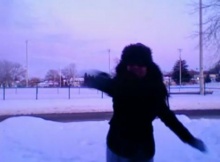 Appearances
Niagara Falls, Ontario is a city located on the Niagara River in the Golden Horseshoe region of Southern Ontario. It is right across the river from Niagara Falls, New York.
Niagara Falls is the hometown of Erica and her late best friend Grace. After spending a year living as a shut in in her home for two years, Erica has decided to investigate her friend's passing, and begins to suspect that the Order may somehow be involved due to something she saw the previous week. After searching outside of town for information, she returns to town on a train and gets into contact with Jayde Cooper. Afterwards, she was contacted by Sibylla and Xavier Weave who promised her information on Grace if she sent disturbing information to the Lasties. Erica recorded herself investigating a downtown warehouse, and revealed that she thinks Grace may still be alive.
Later, however, she comes clean, seemingly coming to peace with her friend's death. She gave Bray and Mitch information on how to break into the Order HQ in Sydney, Australia. Unknowingly, she does this in accordance with Sibylla's master plan.