Please Select Alternate Route
From LGPedia
Please Select Alternate Route is the twentieth video in the LG15: Outbreak video series.
Transcript
!!! This Transcript Is Incomplete !!!
Please contribute to the LGPedia and complete it.
Notes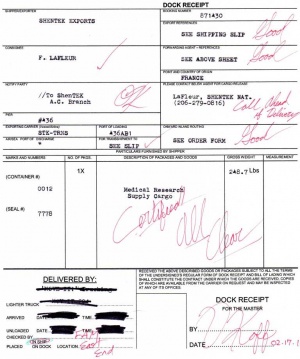 After the video was posted, Will Uploaded a picture of the form to LG15.com
The phone number seen on this form can be dialed. The following voice message can be heard when dialed: "Uh, vous avez le (something) de LaFleur à SHENtek Nationale. Laissez un message, s'il vous plaît. Merci. Begin speaking at the tone. When you're finished, hang up, or press 2 for more options." The French translates to "This is the (something) of LaFleur at SHENtek Nationale. Please leave a message. Thank you." (Note: The message is incredibly slurred, so determining the "something" is difficult.)
The name "LaFleur" is a clear reference to the TV-show "LOST", in which one of the main characters, Sawyer, adopts this name after killing the real "LaFleur" and infiltrates an enemy camp.