Hymn of One recruitment centers
From LGPedia
The HoO Seminar location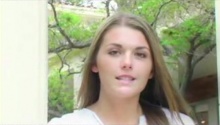 Appearances
The Seminar Location

The White Room

The Hymn of One Los Angeles Center
The Hymn of One uses a variety of recruitment centers to help entice people to join their religion.
The Seminar Location
After Bree left with the Hymn of One in Zavalla, Texas, she was brainwashed and made to participate in a series of recruitment videos for the HoO Seminar. Daniel, Jonas, and Sarah tracked the location down and rescued her.
The White Room
After Daniel was kidnapped by OpAphid, he posted a video from a myserious white room, urging Bree to complete the Ceremony. Since that time, Bree joined up with the Hymn of One and began posting recruitment videos in a similar white room somewhere within the Hymn of One facilities.
The Hymn of One Los Angeles Recruitment Center
Following a tip from a a drunken Chris, Jonas, Daniel, Sarah, and Mallory went to the Hymn of One Los Angeles Recruitment Center, believing they would find Emma preparing for the Ceremony. Instead, they found a press conference announcing a new partnership between the Hymn of One, the Wyman Foundation, and Verdas Pharmaceuticals.