Bree's bedroom
From LGPedia
Bree's bedroom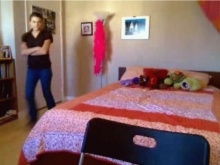 Appearances
Bree's bedroom
Bree's house
Most of the early Lonelygirl15 videos take place in Bree's bedroom with Bree filming herself at her desk. Bree's bed and bookshelf are opposite the desk, with a painting by Edward Hopper above the bed and a shrine to Aleister Crowley atop the bookshelf. Wired published an article in the December 2006 issue with behind-the-scenes photos.[1].
Bree's House
Daniel returns to Bree's house (now abandoned) in Back At Bree's, and provides footage of several other rooms.
Bree's Neighborhood
Daniel picks Bree up outside her house in Learning To Drive, revealing images of her street in the process.