Jonas's house
From LGPedia
Jonas's house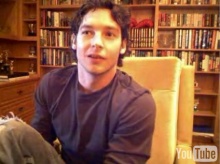 Appearances
The Library

The Rest of Jonas's House
Jonas became a lead character after Gemma's disappearance. Jonas's house has been a major backdrop since Daniel and Bree have joined him there. His house is large and in a remote area in Seahaven, CA, which is north of San Francisco. He inherited it from his parents when they where lost at sea. Most of the videos take place in the library, though some take place in the living room or outside, such as the video Skateboarding. The Creators have revealed that the the house is actually Kenneth Goodfried's house.
Images of Jonas's House
His Dad's Study
In the first picture, Here we see Jonas talking on his webcam in his library on Thanksgiving.
In the second picture, in Trust Issues, we again see what may be key elements of Jonas's library (besides all the books on the bookshelf):
Trophies
Polaroid camera
Boxing gloves
What appears to be a statue of some kind
This video features Jonas wearing a distinctive "sailors cap/Argyle hat".
In Trust Issues, we also see a clock set to 7:10. Now, if the clock is actually set to 7:11 then perhaps the Orange Slurpee cult is onto something.
The Rest of the House